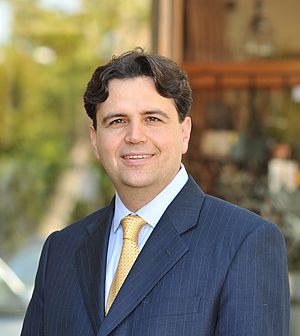 Dr. Zoufan
Dr. Zoufan received his Doctor of Dental Surgery degree and Advanced Education in General Dentistry residency from the University of Southern California. Dr. Zoufan is Board-Certified and a Diplomate of the American Board of Endodontics. After practicing general dentistry, Dr. Zoufan found he had a strong affinity for endodontics and pursued advanced endodontic training at the University of Connecticut Health Center. There, he studied under a world-renowned international faculty comprised of leaders in the field of endodontics such as Dr. Lars Spangberg, Dr. Kamran Safavi, and Dr. Qiang Zhu. He had the honor of graduating with a Master's Degree in Dental Science, as well as a certificate and license to practice the specialty of endodontics.
Dr. Zoufan is an Clinical Associate Professor at the University of the Pacific, Dugoni School of Dentistry, and is responsible for the postdoctoral training of endodontics in the Advanced Education in General Dentistry (AEGD) program. He has participated in a number of research projects, both nationally and internationally. In addition, he is an active member of the American Association of Endodontists (AAE) and an author in its journal.
After moving his family to Northern California, Dr. Zoufan had the opportunity to build a practice of his own. His vision encompasses using a wide set of skills and clinical expertise along with the most current technologies in the field to provide patients with excellent, pristine, and predictable endodontic care. This technical ability, combined with the patient-friendly chairside manner developed by watching his father, Dr. Ebrahim Zoufan, allows Dr. Zoufan to provide top-grade endodontic service to his patients. You can expect a patient experience that is far beyond normal expectations.
University of Connecticut, School of Dental Medicine, Farmington, CT 2010 Certificate in Endodontics
Board Certified: Diplomate, American Board of Endodontics
University of Connecticut Health Center, Graduate School, Farmington, CT 2010 Master of Dental Science
University of Southern California School of Dentistry, Los Angeles, CA 2005 Certificate in Advanced Education in General Dentistry (AEGD)
University of Southern California School of Dentistry, Los Angeles, CA 2004 Doctorate of Dental Surgery
Dean's Honors List
University of The Pacific, Arthur Dugoni School of Dentistry, Union City, CA June 2012 - Present
  • Assistant Professor of Dental Practice
  • Director of Postdoctoral Training of Endodontics in Pacific's AEGD program
University of Connecticut, School of Dental Medicine, Farmington, CT Aug 2010 - June 2012
  • Clinical Instructor in division of Endodontology
Tunxis Community College, Dental Hygiene Program, Farmington, CT July 2009 - Dec 2009
  • Clinical Instructor
University of Southern California, School of Dentistry, Los Angeles, CA June 2004 - June 2005
  • Clinical Instructor in Urgent Care and Trauma Center
University of The Pacific, Arthur Dugoni School of Dentistry, Union City, CA
Faculty Private Practice
Endo Care Group, East Bay, California
Part Time Associate Endodontist
Columbia Dental Specialty Associate, Manchester, Connecticut
Full Time Endodontist
Cytotoxicity Evaluation of EndoSequence Bioceramic and GuttaFlow Sealers in vitro
  • Oral Surgery, Oral Medicine, Oral Pathology, Oral Radiology, Endodontics November 2011
  • Additionally published in Journal of Endodontics March 2010
University of Southern California School of Dentistry, Los Angeles, CA Feb 2004
  • Comparison study between White MTA, Gray MTA and Silicate Oxide Cement as a Filling Material
"Contemporary Endodontic Treatment Outcomes" May 2014
  • Continuing Dental Education University of the Pacific
"Endodontic Success and Failure" March 2014
  • Foothill Study Club
"Endodontics: A Personal Journey" Jan 2012
  • University of California San Francisco, School of Dentistry, San Francisco, CA
"Endodontic Consideration in Auto-Transplanted Teeth" May 2010
  • American Association of Orthodontists Annual Meeting, Washington DC
"Cytotoxicity Evaluation of EndoSequence Bioceramic and GuttaFlow Sealers in vitro." April 2010
  • American Association of Endodontists Annual Meeting, San Diego, California,
"Procedural Consideration in Tooth Auto-Transplantation" May 2009
  • American Association of Endodontists Annual Meeting, Orlando, Florida
USC Mobile Clinic, located in Elmonte and Taft, CA
Queenscare Mobile Clinic, Los Angeles, CA
Union Rescue Mission, Los Angeles, CA
Geriatric and Special Patient Clinic at USC, School of Dentistry
Hollenback Geriatric Home, Los Angeles, CA